I did a bathroom renovation on a budget several years ago and just made an easy, bathroom update on a budget for summer with Lowe's. Thanks to Lowe's for sponsoring this post.
We've officially hit the three year mark on the guest bathroom we renovated on a budget. It has survived Kayla's bathroom science experiments and is currently being put to the test with Blake's potty training. With me in the hospital quite a bit, we've had lots of family helping out. So while I was feeling good, I wanted to do a few simple updates.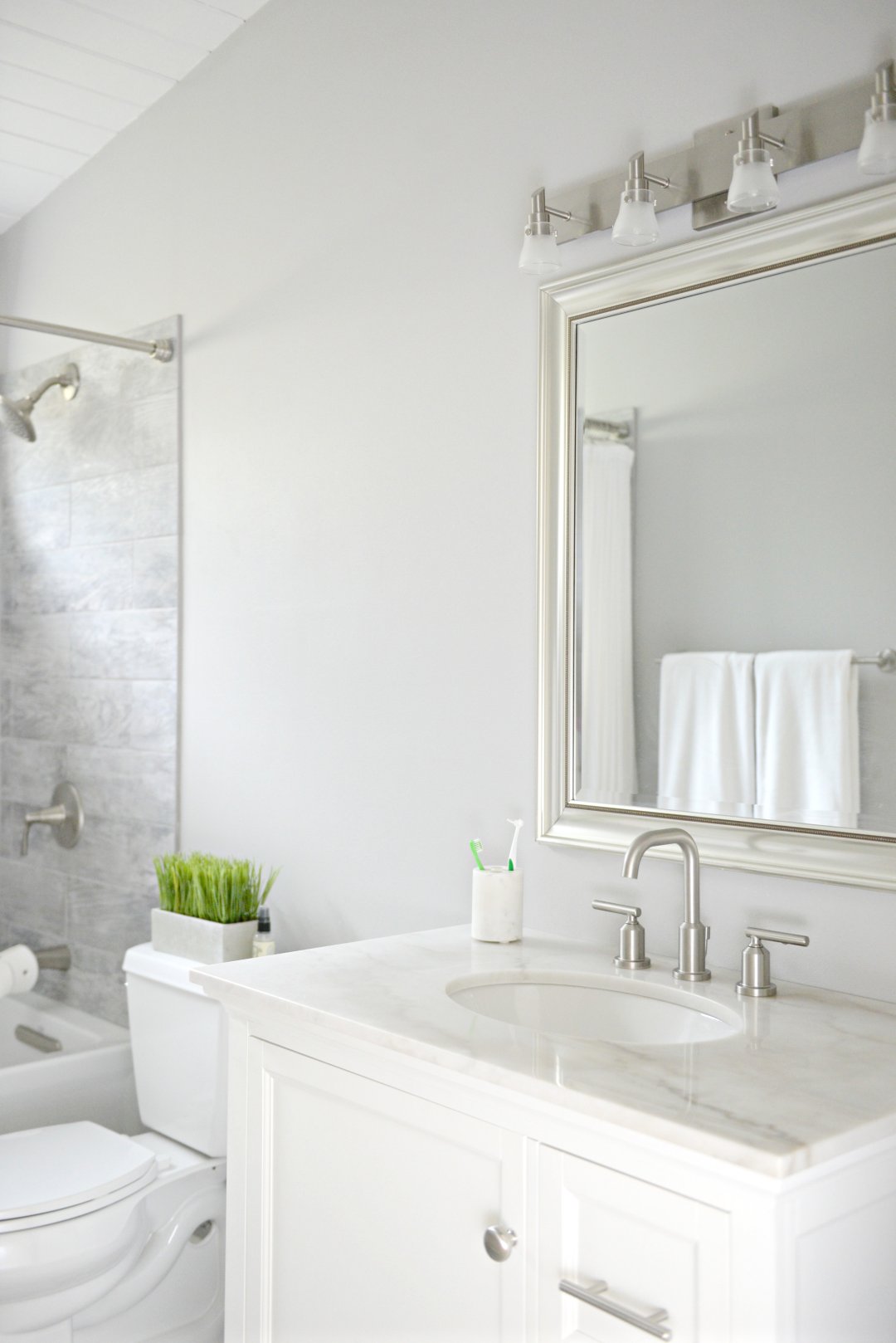 My goal with this bathroom had always been to have a bright, clean look. Lowe's has so many ways you can give a bathroom a quick, budget friendly update. Paint, tile, and a huge selection of bathroom hardware. The paint and tile are still miraculously in great shape. To this day I'm happy with my decision to run the same tile that's on the floor up with wall of the shower to create the illusion of a bigger space. One thing I did want to change was the hardware on the vanity.
It was a stock vanity and the drawer pulls felt more traditional than contemporary. The knob on the door also felt slightly undersized and had a bit of a design on it. My goal was to find drawer pulls that mimicked the style of the faucet so I was delighted when I found these pulls and this knob at Lowe's.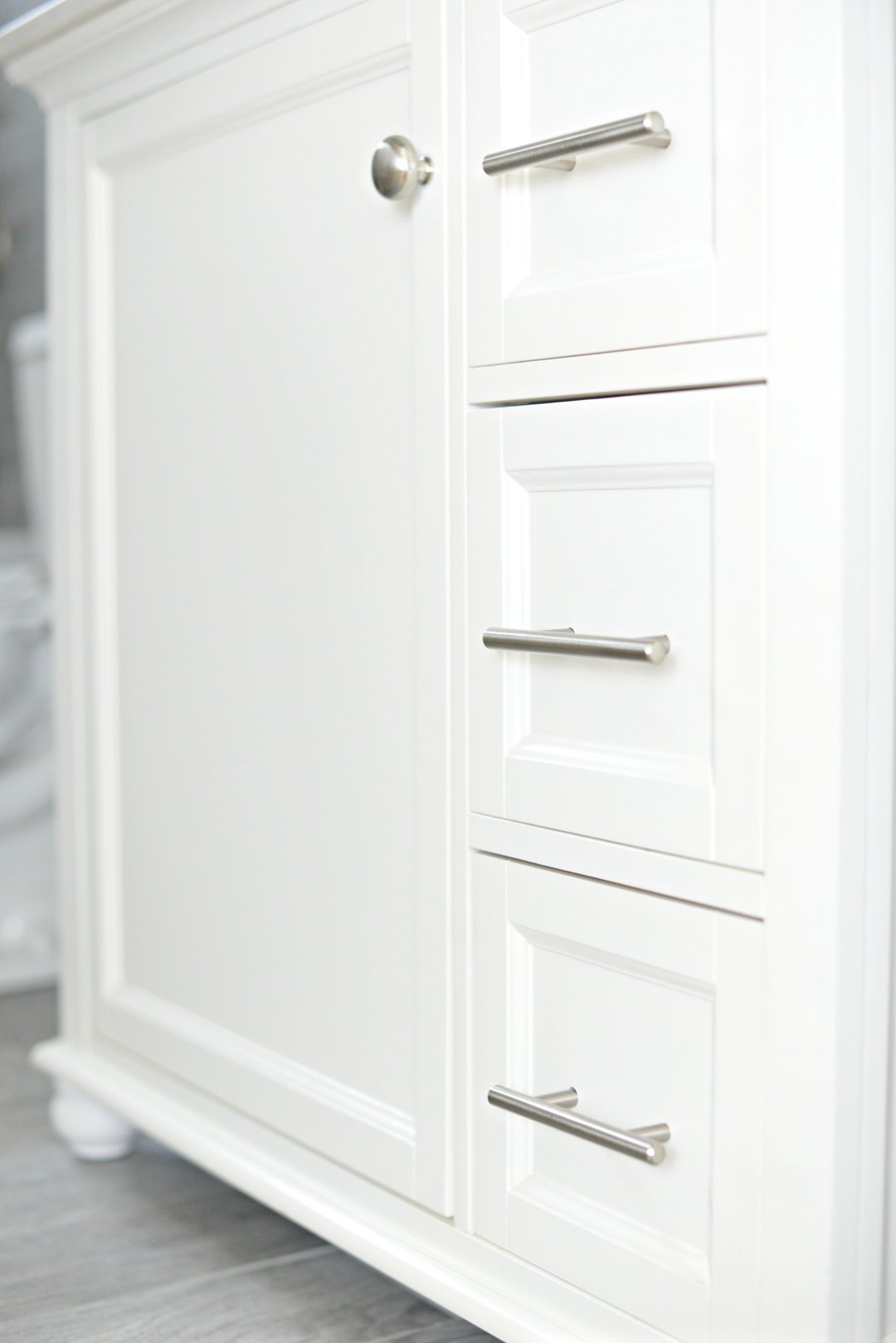 Switching out the knob and pulls took just a few minutes with the help of my ratcheting screwdriver. It's inexpensive and quite possibly the best gift I ever bought myself. It saves a TON of time and wrist pain when dealing with a lot of screws.
This was also a reminder to peek inside of those drawers and to do a little reorganizing. I tossed outdated products, corralled hair bands and added some new coconut oil based products that smell like a tropical getaway for our guests to enjoy after showering off from the pool.
We've had a towel bar since day one, but somehow robe hooks had eluded me. It's annoying when you find yourself in a bathroom and there is nowhere to hang a robe or a towel to dry, so how it took me this long I'm not sure. Life, kids, etc.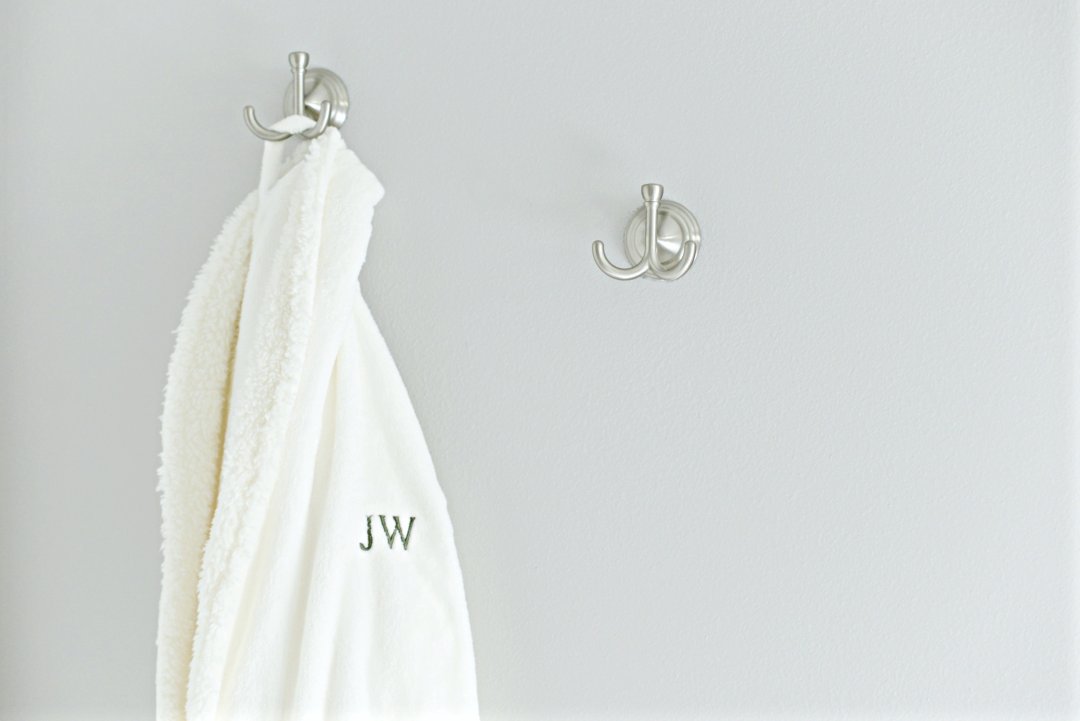 These Delta robe hooks did the trick. They were affordable and came with a fairly easy to follow template for hanging. Now robes and damp towels have a place to live and dry off.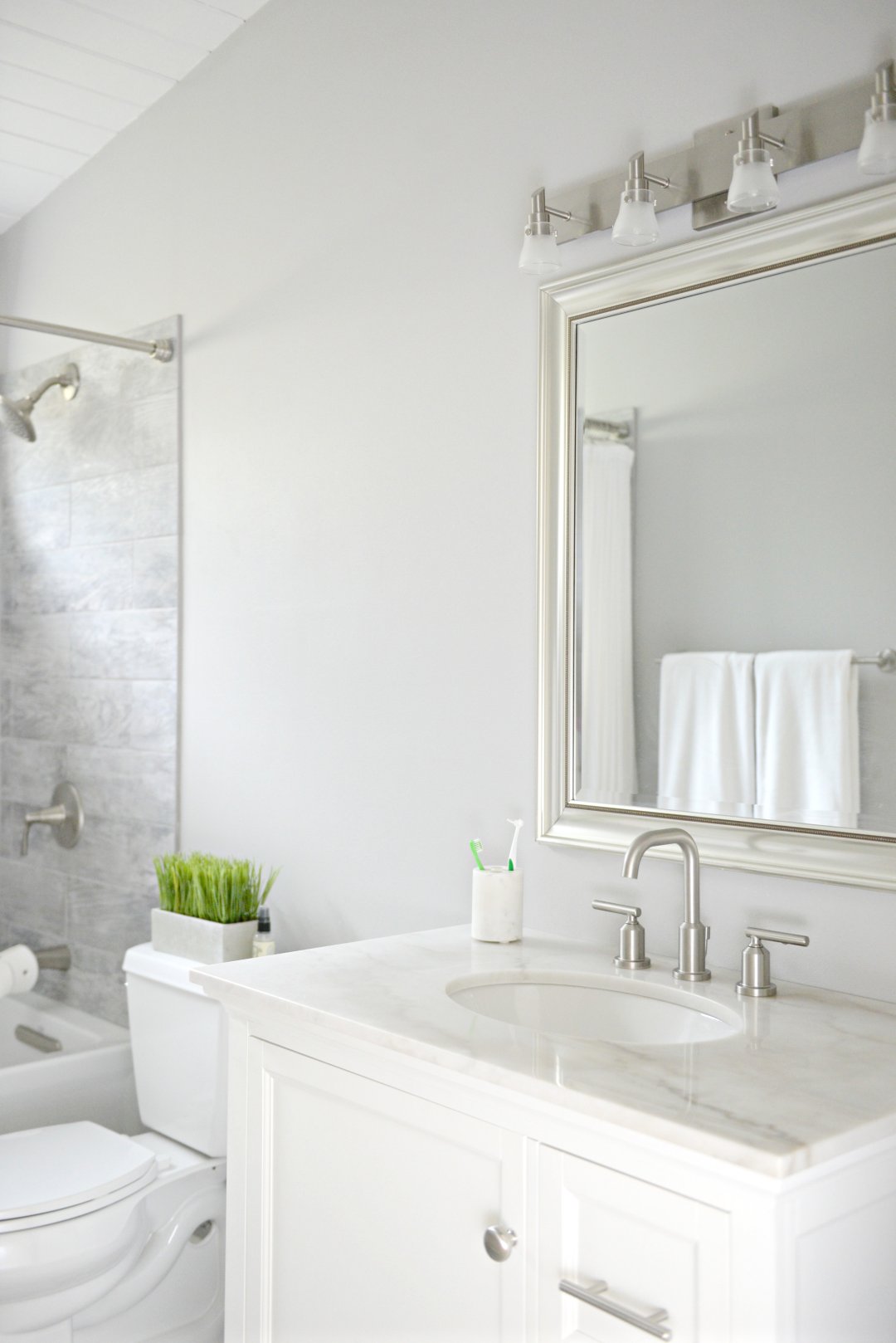 This vanity light fixture is still one of my favorite finds at Lowe's. It's budget friendly at just under $80 and plenty bright thanks to four halogen bulbs. Ours is now 3 years old and to date I have only had to change out one light bulb. I wrote about this in an update post at least a year ago and yeah…just got around to it on this last shopping trip. Fortunately a nice gentleman pointed me to aisle one, lightbulbs before my brain could go SQUIRREL and forget about it for another year.
While I'm undergoing treatment I'm not allowed to garden and supposed to avoid flowers, etc. So to add a natural looking element, I brought this artificial wheatgrass out of my party prop bin and it added a nice little dose of color.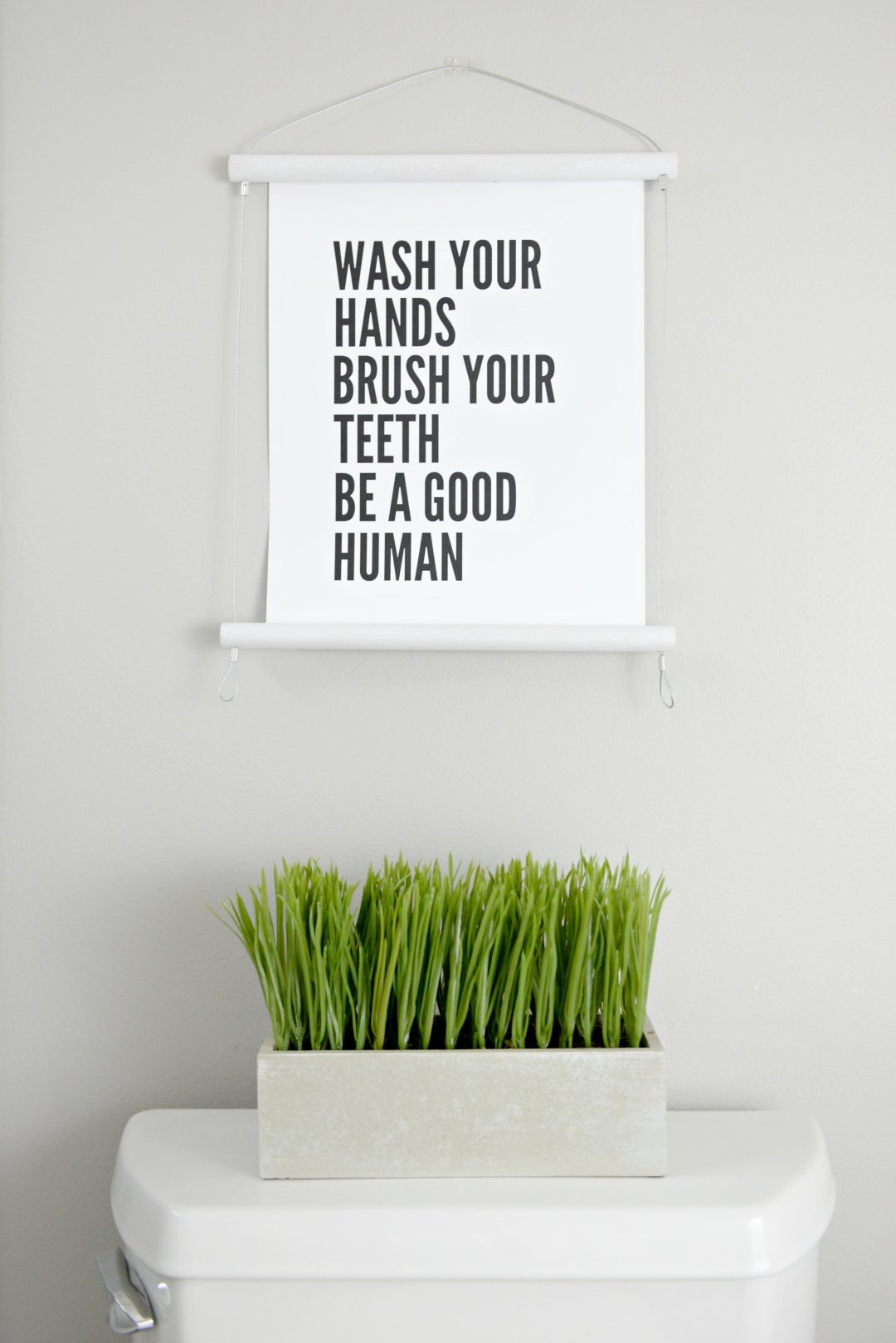 But I still felt like something was missing and I was itching for a little DIY project to fill in the space over the toilet. I made this printable that addresses most of our house rules and decided to create my own DIY dowel frame for it instead of buying one. You can download my printable here and the full tutorial for the frame is coming soon.
True story, I felt pretty satisfied with myself as I hung it on the wall with one of those clear Command hooks since I am forever changing out printables and coming up with new ones.
Naturally, as I was trying to snap some photos of my now completed and nearly picture perfect bathroom I was photobombed. By none other than a toddler with food on his face shouting RAWR over and over again and sticking his favorite plush dinosaur in my face. Hi Blake and hello mom life!
And that my friends is my summer bathroom update. I promise to give you the tutorial on that DIY dowel frame soon. It has a special place in my heart. Bob from Lowe's in Mission Valley went out of his way to help me figure out which components to use and we got talking along the way because again, I'm a naturally chatty person.
He's a four time cancer survivor who most recently battled ALL and a relapse. Bob had to be a good 30 years my senior and as I watched him climb up a ladder to find a certain piece of hardware he said "It's all about keeping negativity away. Your mindset is everything." I couldn't agree more.
Want to save these ideas for some bathroom on a budget inspiration? You can pin the image below and it will be waiting for you when you're ready!
Thanks to Lowe's for sponsoring this bathroom update on a budget.