Want to know how to transition your Christmas decor into New Years decor easily? I have partnered with Lowe's to bring you two looks, show you how to put them together and inspire you to get decorating for the holidays.
Holiday decorating is something I look forward to all year. As soon as we hit November I can't wait to break out the Christmas decorations and enjoy them for as long as possible. My style is simple, yet playful and I love mixing colors and textures. Craig and I host Christmas in our home and frequently have family in town right up until the new year. So this year I wanted to create an entryway look that could transform from Christmas to New Years quickly.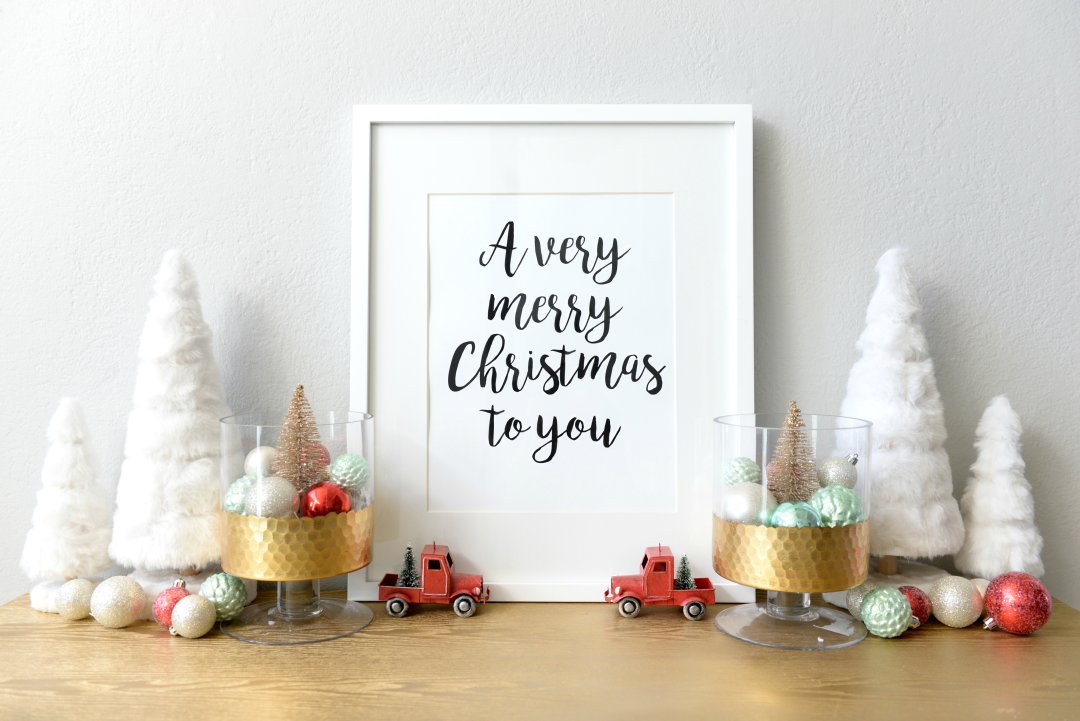 Our entryway has always been my little space to makeover as many times as I like. Since it's the first thing people see when they come through the door, it's fun to set the tone. If you know me then you know I don't hesitate to paint EVERYTHING gold. About a year ago our entryway table went from chocolate brown to gold and I've never looked back.
When I saw these glass hurricane vases with a faceted gold look while shopping at Lowe's, I wasted no time adding two to my cart. Vessels like these are perfect for holding everything from chocolate treats to ornaments and I have no doubt they'll be come a part of my regular rotation.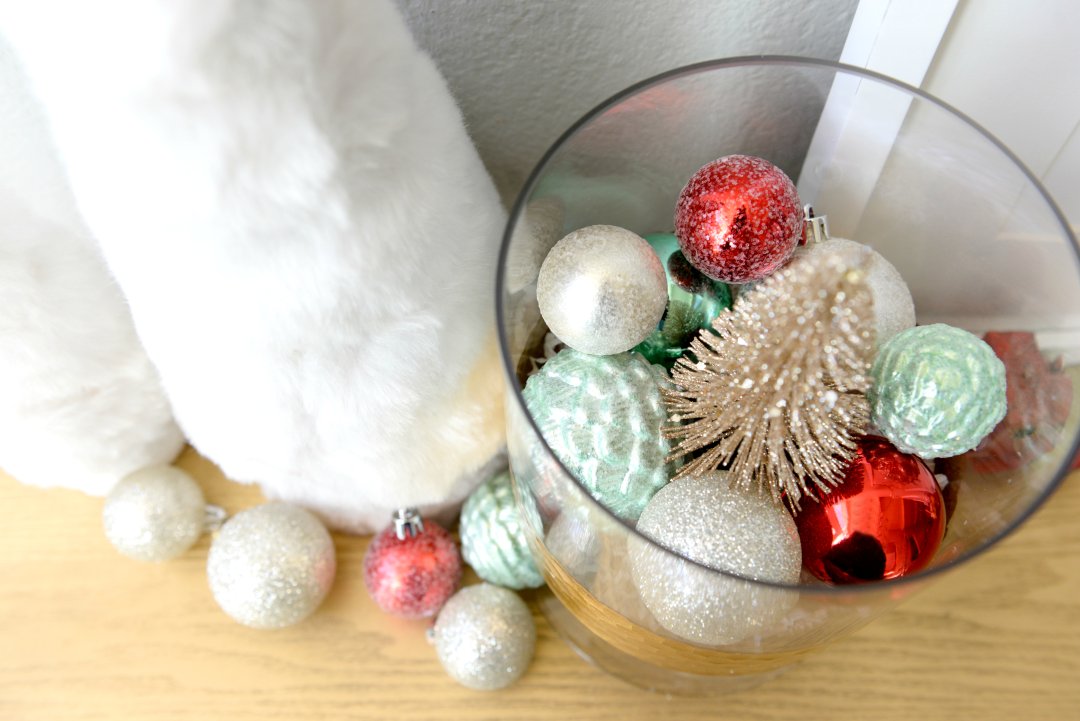 I filled them with an assortment of red, white and mint green ornaments, then topped those off with a glittery gold bottle brush tree that was actually an inexpensive ornament with the string to hang it snipped off. These ornaments came from a big container of shatterproof ornaments  (the only kind I can buy these days) and I loved the mix of textures and colors in it.
Since our living area is primarily light gray with white trim these large and small faux fur trees felt like a perfect fit to my entryway.  I love how modern they look while adding both height and texture. I caught Blake trying to snuggle one as I was setting things up because they are that fluffy and soft.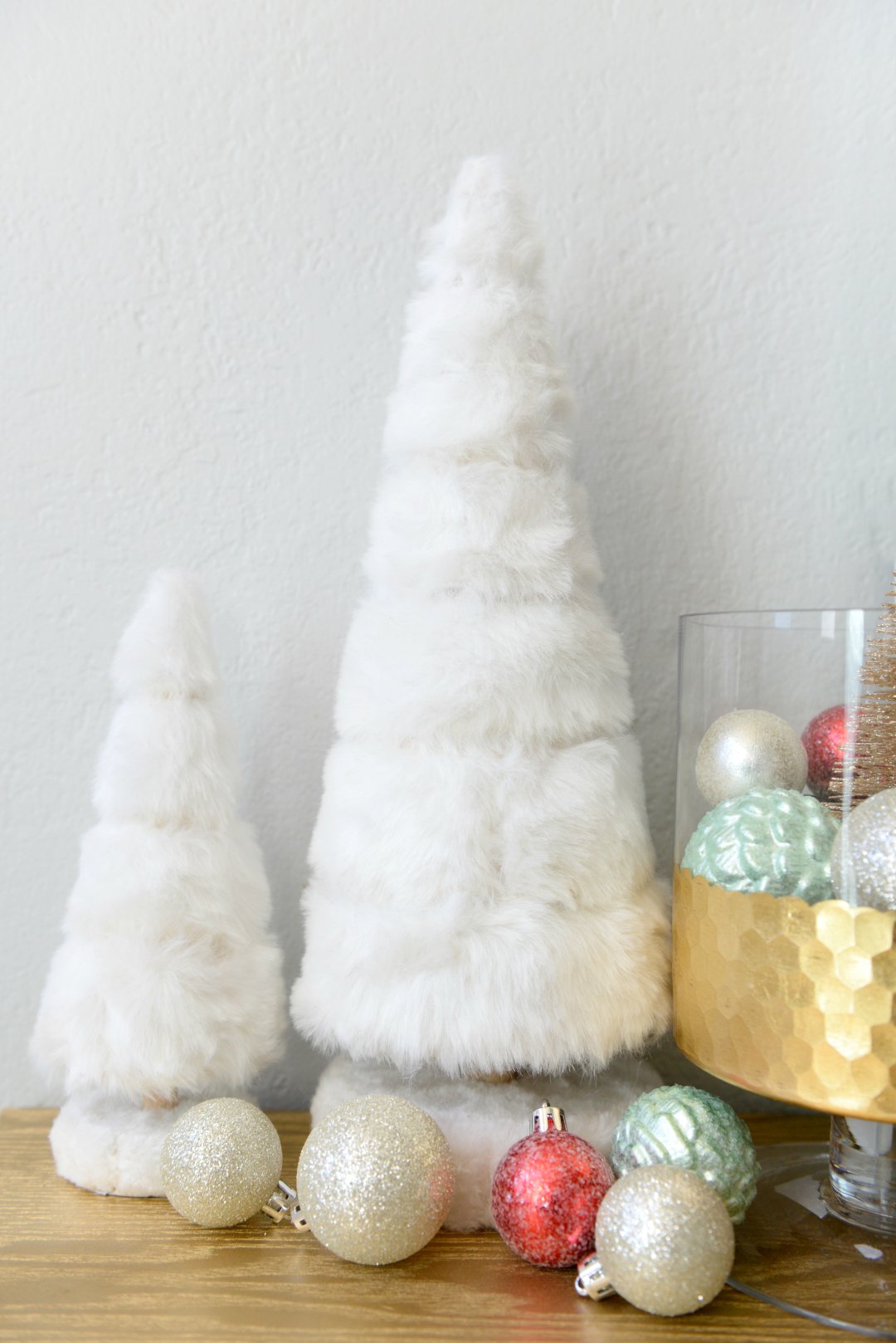 I added these vintage style red truck ornaments to bring a touch of traditional Christmas to the look. The snow covered trees they were hauling made me smile. My husband who doesn't pay much attention to my ever changing decor quickly commented that he liked them very much. While they would look cute on a Christmas tree I love them right here at the base of my printable that says "A very merry Christmas to you."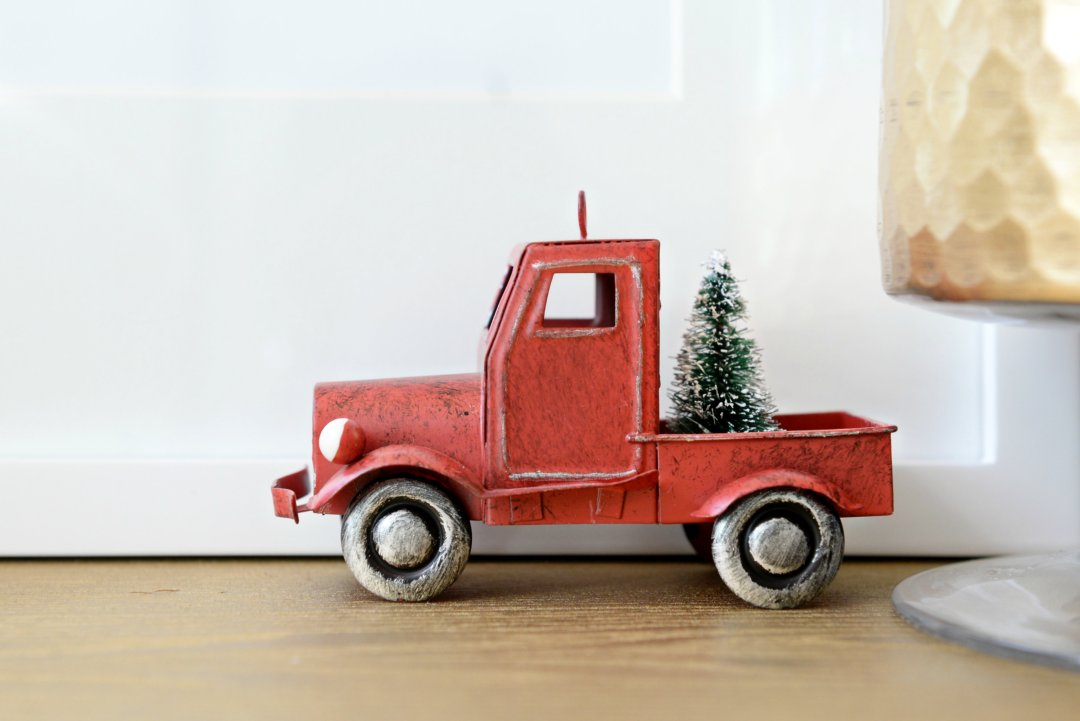 If you're thinking that this feels very Christmas, you're right. But watch how quickly it transforms to look ready to ring in the new year! Believe it or not I swapped out Christmas for New Years in about 15 minutes. Yes! I was able to do this by keeping several main Christmas elements and changing up the color scheme.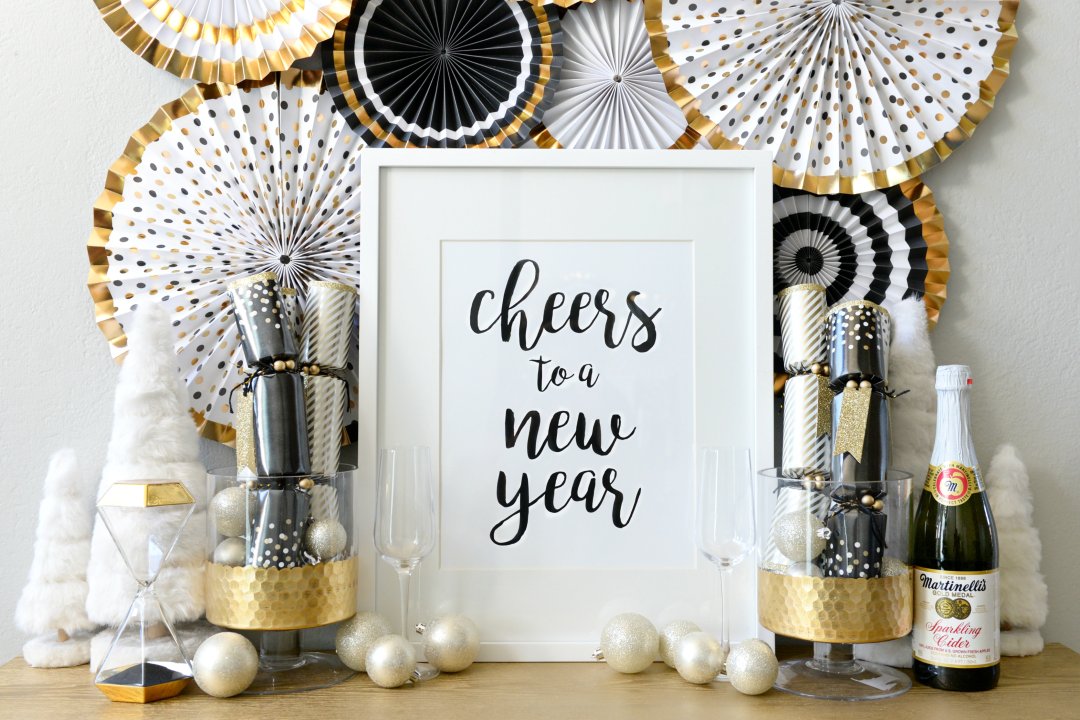 The white faux fur trees and the hurricane vases stayed since they are neutral and felt both festive and snowy.  I swapped out the red and mint green ornaments for more champagne colored ones. They all came from the same container I originally purchased, so I didn't need to buy more.
Next I added a few party crackers to each hurricane vase. New Year is a playful, fun holiday and while party crackers traditionally wind up on a more formal table setting I thought it would be fun for guests to grab one on their way in or out.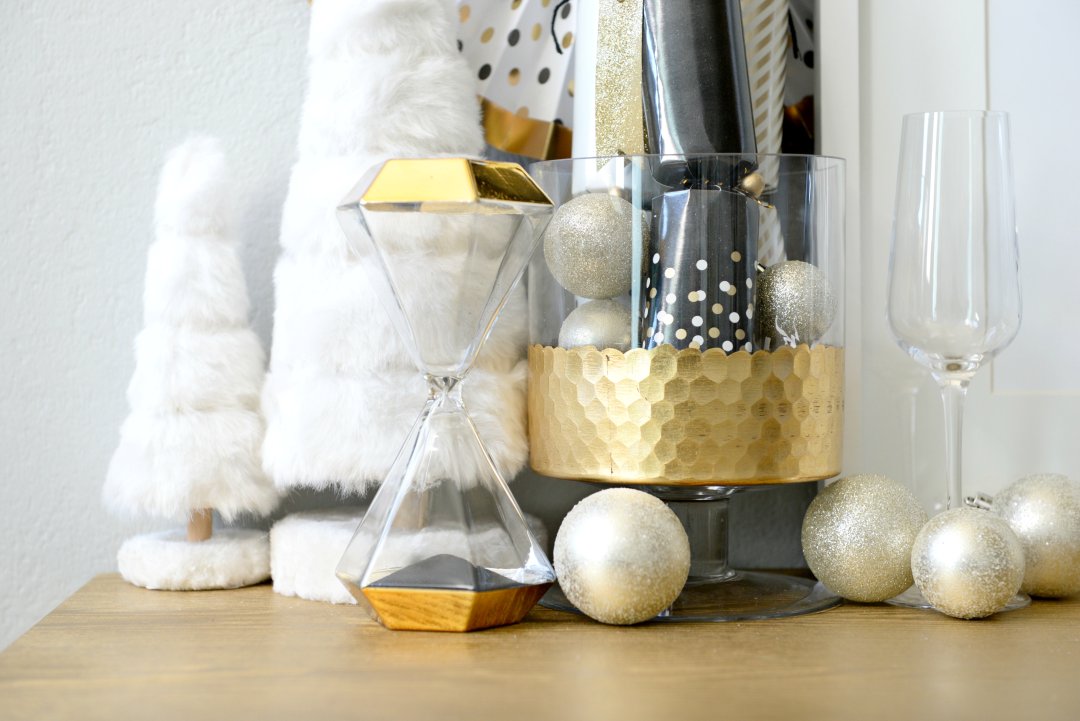 When I saw this gilded hourglass it was impossible for me to resist. I added it to pay homage to Father Time and because it makes for an interesting element that I would gladly repurpose throughout the year. I swapped out my Christmas printable for this one that says "Cheers to a new year."
Last but certainly not least I used two packages of these paper pinwheels to create the ultimate black, white and gold backdrop. They were inexpensive, easy to assemble and I simply attached them to my wall with a bit of washi tape which is usually safe even for painted walls. For about $15 I got a look that a professional party stylist might deliver.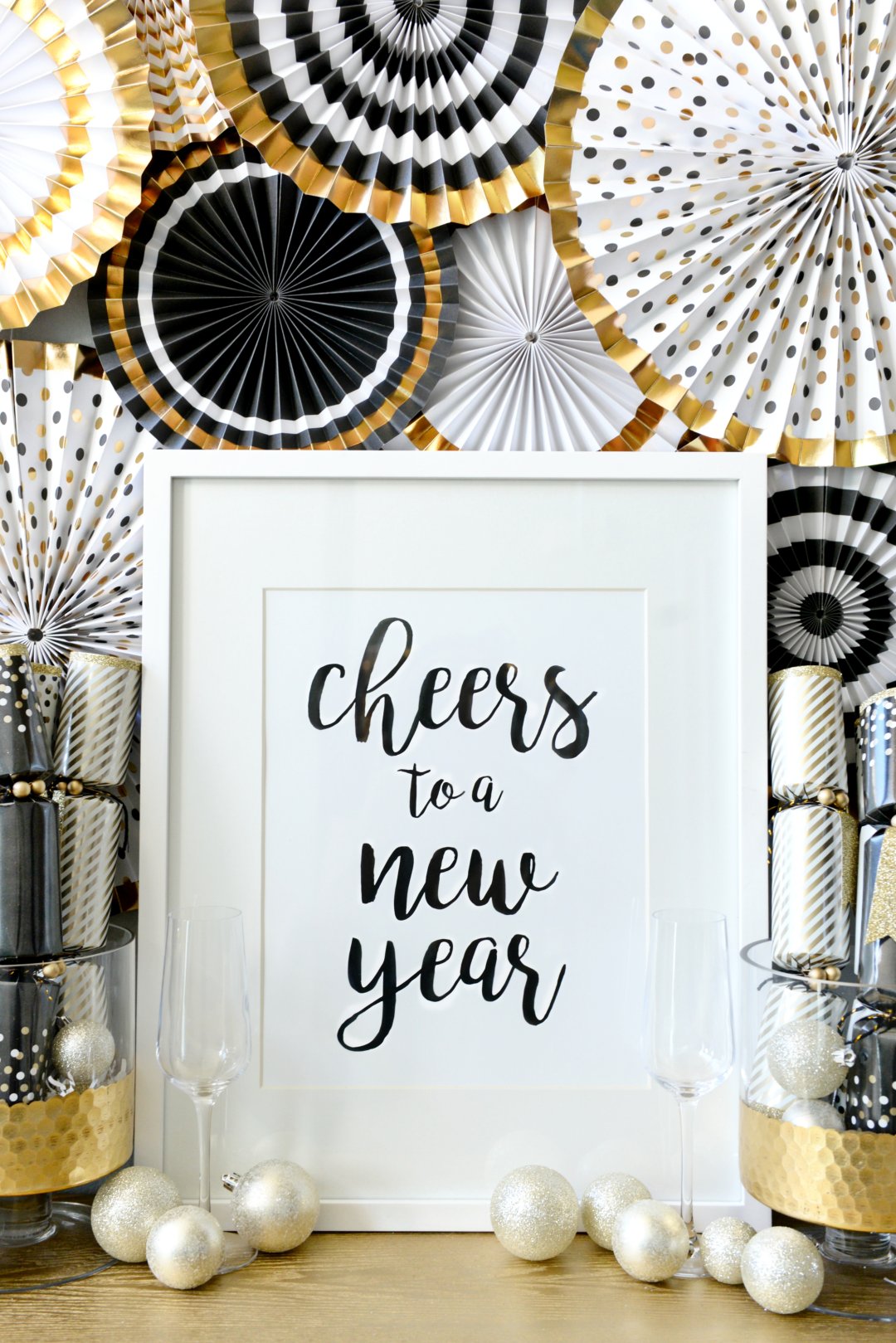 With the exception of my framed printables (which you can download below) and sparkling apple cider, everything in both my Christmas and New Years look came from Lowe's. I was so impressed with their selection of holiday decor and how easy it was to create a unified look using different elements. The Allen + Roth line is perfectly suited to my taste and available at what felt like very reasonable prices. Now all that's left to do is finish my holiday gift shopping and plan a holiday menu!
Download my Christmas printable here
Download my New Years printable here
These printables are sized to fit an 11×14 frame. You can scale down as needed to suit the look you're going for!